Lee's Summit High School
Class Of 1967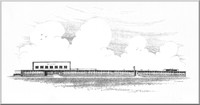 In Memory
Cindy West (Ramey) VIEW PROFILE
---
Surely, Dr. Cindy West Ramey, represented the BEST of the LSHS class of 1967........and the BEST we all hoped to become.
She was a beloved wife and mother, loving grandmother, daughter, sister, aunt, niece, granddaughter, sister-in-law, loyal and devoted friend, scholar, outstanding teacher and college professor, mathematician, musician, accomplished pianist, dancer, aerobics guru, seamstress, volunteer, snow and water skier, mentor, family "game leader", faithful church and choir member, to name a few.
And here's the remarkable part. The Cindy West we all knew, the bubbly, happy, optimistic, pink cheeked, intoxicated with life Cindy, who twisted with Stevie Leighter, cheered the Tigers and organized our class reunions, remained true to her spirit until the end. Her Mother told me, Cindy never complained about her cancer treatments. She never bemoaned her fate.
I am immeasurably better for having known Cindy. I am lucky she was my friend.
Jill Clingenpeel Rice
---
When the microphone was passed around at Cindy's memorial service in 2003, I was too shy to stand up and talk about what an excellent musician she was. But at district and state music contest in 1967 Cindy was my accompanist, and she played brilliantly both times. Beyond that, I can only echo Jill's well-chosen words: Cindy represented the best of the best in our class. And 40 years later I still feel grateful to have been one of her many friends.

Mike Metheny
Click here to see Cindy's last Profile entry.